Profile

Free Account
Created on 2010-05-08 18:19:00 (#511360), last updated 2012-03-17 (288 weeks ago)
17,221 comments received, 5 comments posted
2,399 Journal Entries, 879 Tags, 0 Memories, 12 Icons

About

Mini Bio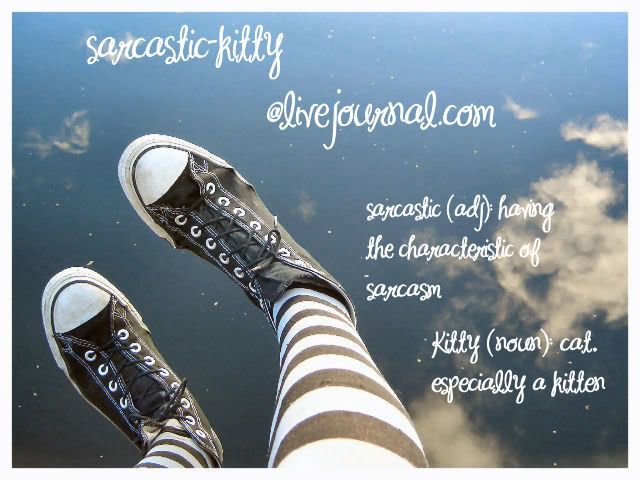 In a galaxy far, far away....

Michelle/Ally/Mia, 22 years old, has a pet giraffe named sparky on her wrist, student, swimmer, occasional writer (though not so great), Play Guide at the local Children's Museum, part time teacher, and all around geek. A dutch girl living in the States, hooray Tacoma! Loves to swim, ride horses, do pilates and yoga, write, and curry. Mmmm, curry. Wears too much eye makeup, owns too many books, spends a lot of time failing at life. Loves Shakespeare, and reading in general. Pop music junkie. She thinks ice cream cake is GOD, and fresh, warm stroopwafels are love.



Two minutes to Belgium
Things I love
Doctor Who, Country music, Robin Hood, Shakespeare, Merlin, chemistry, Starbucks, curry, swimming, glitter, colors, jumping into piles of leaves, boxers, pretending to fly, mascara, Skins, school, pigtails, my camera, traveling, Bones, science, history, How I Met Your Mother, writing, free hugs, memoirs, Disney, ponies, Lush, Candy, paint, glitter!, brightly colored things, toys, acting like a five year old and getting paid for it, teaching, making paper snowflakes....


Speak!
AIM: Daisychain Tiara
MSN: garnet_sunshine@hotmail.com
Skype: Michikit
Email: vintagefeline@gmail.com
Writing/Other stuff journal:
inkyscribbles
You can find me on
Sheroes Central
as Alliyah.
Profile layout code by
refuted


Banner at top made by me
Awesome Merlin moodtheme by
wikked_angel_78
Layout Flexible Squares v.7.0 Hear No Evil
By
edge_of_the_art

Connect
daisychain tiara

People
[View Entries]

Communities
[View entries]

Member Of (4):

Subscriptions (6):

Administrator Of (2):

Feeds
[View Entries]

Subscriptions (0)

Linking
To link to this user, copy this code:
On Dreamwidth:
Elsewhere: